.
.
by Edgar E. Camenting, NAMFREL Project Coordinator
March 28, 2011
from NAMFREL Election Monitor Vol.2, No.5
.
Under the implementation of NAMFREL and the Department of Health's (DOH) Medicine Monitoring Project 2, NAMFREL monitored a total of Php 1.3 billion pesos worth of the Approved Budget for the Contract (ABC) both for pharmaceutical and non-pharmaceutical products. This procurement monitoring results were taken from the Observers Diagnostic Report (ODR) from the 22 projects sites, whose Bids and Awards Committees (BACs) have directly monitored by NAMFREL volunteer-observers.


BAC monitoring


Data from four project sites were not included in the 2010 procurement report (Table 1) as the observers in said sites were able to attend only the the pre-bid conference. These sites were Corazon Locsin Montelibano Memorial Regional Hospital (CLMRH) in Bacolod, Dr. Jose Fabella Memorial Hospital (DJFMH), Center for Health Development (CHD) for Mimaropa, and Gov. Celestino Gallares Memorial Hospital in Bohol. Similarly, observer were not able to cover at all six project sites due to late participation of volunteers in said areas. These
were in Cagayan Valley Medical Center (CVMC), National Center for Mental Health (NCMH), CHD for Central Luzon, Northern Mindanao, and Southern Mindanao as well as in Western Visayas. All these hospitals will be covered in 2011.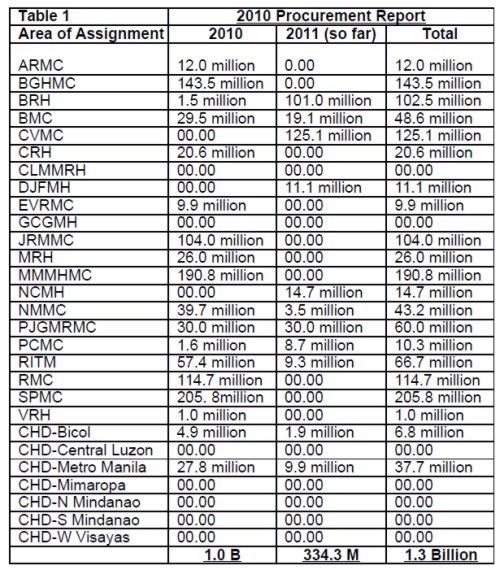 Delivery monitoring


On the delivery monitoring tasks, NAMFREL monitored a total of Php 61.4 million worth of drugs and medicines out a total of Php 155.5 million monitored in 10 from the 14 project sites monitored for delivery monitoring. The figures were based on actual evaluation of Purchase Orders, Delivery Receipts and the Inspection and Acceptance Report obtained from the Property Office of each hospital and CHD. The delivery monitoring was made in the following hospitals: (see table 2)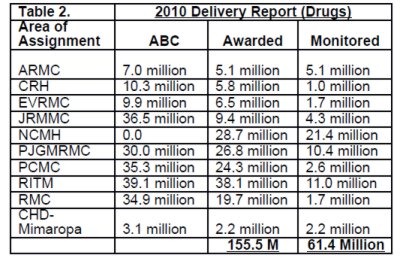 The delivery report only covers reports submitted completely to NAMFREL project team. Other deliveries of medicines in the 2010 period have yet to be completed by the suppliers. The delivery report only covers deliveries of medicines procured through public bidding. Medicines purchased by other modes of procurement (like direct contracting, negotiated procurement, shopping) were not included in the delivery monitoring.


Inventory monitoring


NAMFREL monitored the allocation of a total of Php 11.7 million worth of drugs and medicines initially in 6 of the project sites comprising of 5 hospitals and 1 CHD. The report was based on the document assessment of the Requisition Issuance Slip (RIS) and the Monthly Issuance Slip obtained from the Hospital Supply and Pharmacy Offices.
| | |
| --- | --- |
| | Eastern Visayas Regional Medical Center / Php 1.4 million |
| | Research Institute for Tropical Medicines / Php 7.1 million |
| | Philippine Children's Medical Center / Php 1.3 million |
| | Rizal Medical Center / Php 168,033 |
| | Dr. Paulino J. Garcia Research Memorial Medical Center / Php 2.0 million |
| | CHD for Mimaropa / Php 91,982.48 |
The results were from partial reports submitted to the NAMFREL of 6 from the total of 14 hospitals. (The other 8 hospitals have not submitted data on inventory).
.
.
.